Costa Maya - a pleasant surprise. While my group decided to split up and do two different excursions in this port, all of us had a great time. One group decided to go to a small hotel and sit on the beach drinking margaritas and the other group decided to go to the ruins.
Our beach from the small hotel:
First, I'll review the small hotel. We were in port from 8-5pm. Since this port is not very developed, there didn't seem to be a lot of high adventure things to do. I usually like high adventure, but if it is not available I like to "get away from it all" at a nice quaint hotel with a beach,
margaritas
, food, and sun. There was not a lot of information on the different beach resorts available independently and since I am not big on ship excursions, I decided to dig further on the web. Finally, after some research I came across Hotel Maya Luna -
http://www.hotelmayaluna.com/
. So, I communicated via email with the owner and to my surprise I got almost an immediate response (compared to other places who were slow and sometimes not responsive at all). I let the owner know that I had a small (10 persons or less) group interested in using her resort for the day for some drinks, lunch, sun, and some snorkeling. I asked her if she could
accommodate
us and she said she could. There was no deposit required except for the dive excursion or massage services (if we wanted we could book a separate dive excursion or massage from a CERTIFIED Therapist and pay them directly). We would only pay a la
carte
for the drinks and food ordered at the hotel. How wonderful it sounded! The resort was 5 km south of the
Majahual
town - a $5 per person taxi ride. So, we got to the port on Monday - a great, sunny day - and followed the instructions posted on
cruisecritic
to find a yellow cab outside the ship terminal. Easy enough, there were cabs waiting right outside. They took us to the resort and before we knew it we were in paradise! The resort was everything we imagined - private, quiet, and beautiful! The owner met us right at the entrance, gave us a tour and let us set up under the shade. We had use of beach chairs, kayaks, and one of their cabanas for restrooms and showers. At lunchtime they approached us with the day's customized menu. The margaritas were UNREAL - the food was out of this world and the service immaculate!! They even had a small gift shop and book swap for our use. At 3:30pm we were sad to see our cabs come to pick us up. All in all, probably the best beach day I've had at a port since
Roatan
. If you are a smaller low-key group looking for a place to spend the day in peace, sun, and comfort, THIS IS THE PLACE. Oh, and for 7 of us with the free snorkel masks, fins, kayaks, plenty of margaritas,
cervesas
and food - the total bill was $120 (not including tip - your discretion) - what a deal!!! Here's a photo of our "stressful" day: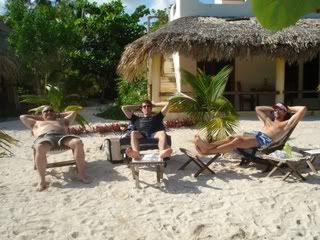 Now for the second excursion, the Mayan Ruins. For this excursion we had read up on
cruisecritic
about DAVID &
IVAN's
CHACCHOBEN
MAYAN RUINS TOUR -
http://chacchobenruins.com/
, which seemed to be a great choice from our research. Price: $43.00 per person, duration: 3.5 to 4 hours. The ride from
Mahahual
, to
Chacchoben
, took around 50 minutes. Tour started one hour after ship docked. Prior to the tour departure we had to get to
Mahahual
, the village. The easiest way to get from the Costa Maya port to
Mahahual
is to use the tourist transportation service available at the terminal. There's only one company offering the service and they have only one location there. Just ask anyone and you'll be directed to their only booth at the place. They charge $3 per person and the ride takes around five minutes. Walking isn't recommended as it is 2.5 miles in the heat. Once in the village we met them at the "Cat's Meow Restaurant" on the main street. Main street was only a few blocks long and in front of the beach. The restaurant is on the first block as you enter the village. Once we found David & Ivan we got on the bus shortly thereafter. The ride to the ruins was the only downside to the tour as it was almost an hour each way and kind of boring. David & Ivan entertained us the entire ride with great stories and history of the area, but it still was a bit much for me. Once we got to the ruins, they were all we imagined - cool rocks in the middle of a desert! After walking around for about an hour we had a few beverages and then boarded the bus back to
Mahahual
. At the end of the tour they dropped us off at the village for some last minute shopping (which was a waste as there is really nothing there and it is all WAY overpriced). It was a once in a lifetime experience that I would recommend to anyone.